Free legal assistance by Hobart Community Legal Service
The Hobart Community Legal Service provides free legal information advice and referrals for you and your community.
We can help you with almost any legal matter, including issues with Centrelink debts or appeals, consumer rights disputes with your telecommunications provider or insurance company, employment and fair work issues, or family violence, child support or criminal matters.
You can attend one of our free legal information evenings, call us to talk through your legal issue, or make an appointment to meet with one of our lawyers.
We also provide the Tasmanian Law Handbook – an online guide for anyone interested in the law or looking for legal information and General Publications about the law in Tasmania.
For more information, please contact us.
Who this service is for
People and communities in southern Tasmania.
Opening Hours
Monday to Thursday: 9.00am – 5.00pm
Friday: 9.00am – 1pm
Accessibility Support
Level access
Wheelchair-friendly toilet facility.
How this service is delivered
Face-to-face

Contact us or see our website for more information.

Call or visit us online

Hobart Office: (03) 6223 2500

Bridgewater Office: (03) 6263 4755

We'll come to you (outreach)

We provide an outreach service - contact us for more information.
Updated: 22/08/2023
Provided by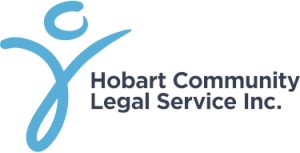 Hobart
166 Macquarie Street, Hobart TAS, Australia
Bridgewater
Cove Hill Road, Bridgewater TAS, Australia
Sorell, Clarendonvale, Huon and Rokeby Outreach