Instructional videos
We have create several how-to videos which you can access via YouTube
---
FindHelpTAS brand guidelines
The FindHelpTAS brand guidelines contain all you need to know about how the FindHelpTAS brands should be used for social media, communications, promotions, events and other activities.
FindHelpTAS resources are provided under a Creative Commons Attribution-NonCommercial-NoDerivatives 4.0 International License (CC BY-NC-N4 4.0).
---
FindHelpTAS service description
FindHelpTAS: is a free, online directory with over 900 services that support the health and wellbeing of Tasmanians and our communities.
---
FindHelpTAS poster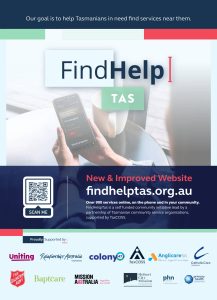 Download for printing only
All posters are designed to be printed in A3 or larger (A2,A1,A0)
Download for web display (not for printing)
---
Link to FindHelpTAS
FindHelpTAS loves to be linked to! We encourage links to our online directory.
Why link to our website?
Our goal is to make it as easy as possible for Tasmanians to find the help they need, whether they are looking for services for themselves or for someone else.
We are committed to providing this service free-of-charge, and we are constantly updating and expanding our directory to ensure that it remains a valuable resource for the Tasmanian community.
By linking FindHelpTAS to your website, your website users will be able to find FindHelpTAS from your website.
What can I link to?
You may wish to link to particular topics, key sections or features depending on the focus and audience of your website.
The following links will take you to a list of recommended pages to link to on each website:
Please also check the terms of use for each website prior to linking.
Is it safe to deep link?
While our team makes every effort to maintain URLs, occasionally we may need to edit or archive certain pages.
We recommend that you review any deep links on a regular basis to prevent '404 Page Not Found' errors.
Please note that the 'www.' prefix is NOT required at the beginning of all URLS.
---
Brand assets
The following logo and description can be used when linking to our website.
| | |
| --- | --- |
| Download: | logo.svg |
| Minimum width: | 125px |
| Available format: | SVG |
| Alt text: | "FindHelpTAS – Tasmania's online social service directory" |
Brand style guidance
To allow for maximum legibility, clear space (padding) must be used around the brandmark. Do not use the brandmark in full colour over an image, or place a Keyline around the brandmark.
The preferred alignment of the brandmark is aligned left.
To protect the integrity and legibility of brandmark it must never be altered. For example, do not position on an angle, distort proportions, produce in different colours or alter the typeface.
---
Social media
We encourage organisations to follow our social media account.
Please feel free to add this link to our Facebook page:
Hashtags
We encourage you to use #FindHelpTAS when talking aboput FindHelpTAS on social media.
---
Any questions?
For further information about FindHelpTAS please don't hesitate to contact us.