COTA Tasmania – Peak Body for Older Tasmanians
Council on the Ageing (COTA) Tasmania is the peak body for older Tasmanians. Our mission is to advance the rights, interests and futures of Australians as we age. We believe strongly that ageing is a time of possibility, opportunity and influence within an equitable, just and inclusive society in which the voices of older Australians are respected and strong.
We advocate to Government, public services, community organisations and the public to promote positive change for older Tasmanians.
COTA is involved in the following:
• Research into elder abuse, home care support programs, active ageing and community inclusion
• Peer education sessions on issues such as financial literacy, health literacy, IT support skills and bushfire safety
• Assistance to navigate the aged care system
• Healthy active programs - Living well, Living stronger
• Co-ordination of the annual Seniors Week
• Programs that focus on Intergenerational connections
We are the Tasmanian branch of the national COTA federation.
COTA are keen to support the community and provide information about any issues relating to older people.
Who this service is for
Older Tasmanians
Opening Hours
Monday – Friday 9:00am to 3:00pm (phone, email contact, office currently closed).
How this service is delivered
Face-to-face

Our office is currently open 9-3pm Monday to Friday.

Call or visit us online

Call us, email us or see our website for more info.

Email contacts:
- General Inquiries: admin@cotatas.org.au
- Aged Care System Navigator Inquiries: debral@cotatas.org.au
- Peer Education Inquiries: kereer@cotatas.org.au
- Seniors Week Inquiries: davidr@cotatas.org.au
- Living Longer, Living Stronger - lukes@cotatas.org.au
- Community Activities & Events / Active Ageing - brigidw@cotatas.org.au
- Elder Abuse / Work 45+ - LynM@cotatas.org.au

Other useful contacts:

Tasmanian Public Health Hotline: 1800 671 738
Tasmanian Government Department of Health website - https://www.health.tas.gov.au/
Elder Abuse Helpline: 1800 441 169
COTA Australia - https://www.cota.org.au/
Updated: 09/02/2021
Provided by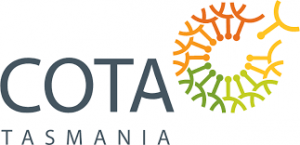 Statewide Peak Body
181 Elizabeth Street, Hobart TAS, Australia