Young Women's Crisis Accommodation
Karinya provides short term crisis accommodation to young women aged 13 to 20 years.
There is a worker on duty 24/7, and 365 days of the year. The main house provides accommodation for up to 6 young women and we also have a separate onsite unit for extended crisis stays.
We support clients to find longer term stable accommodation by referring them to other services. We work with transitional support services in the region to deliver a cooperative case management approach for individual clients. We also provide referrals to service providers of education, mental health, sexual assault, pregnancy, legal issues, violence, drug & alcohol, relationship counseling and family mediation.
We are a Specialist Homelessness Service provider funded by both State and Federal Governments.
The service was established in 1979 to meet the need for safe, confidential, crisis accommodation for young women in the Launceston and greater northern Tasmania region.
Who this service is for
Young women 13-20
How this service is delivered
Call or visit us online

Call us or see our website to find out more
Updated: 20/12/2022
Provided by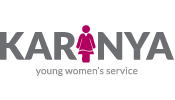 Kings Meadows
Kings Meadows TAS 7249, Australia
More programs from Karinya Young Womens Service