wayraparattee Child and Family Centre – Geeveston
The wayraparattee Child & Family Centre in Geeveston, is a place where all children from prenatal to 5 years and their family can access a range of programs and services.
The purpose of the Child and Family Centre is to improve the health and well-being, education and care of our very young children by supporting parents and enhancing accessibility of services in the local community.
Our aim is to improve the health and educational outcomes for children by:
– providing a range of high quality programs and services to the local community
– building on the existing strengths of families and communities and assist in their educational needs
– increasing participation in early years programs such as playgroups
– building community capacity by developing partnerships with parents, carers and the community.
– responding to child and family needs in a seamless and holistic manner
wayraparattee CFC also celebrates Aboriginal culture and heritage throughout the year by offering programs such as 'Out on Country' and one off events such as NAIDOC Celebrations, Stories Through Art and other various cultural activities. All families are welcome to attend these programs and activities. The name of the centre: wayraparattee (wye-rah-pah-rah-tee,) is a Tasmanian Aboriginal word for 'forest ground'. The name is taken from the South East Tasmanian Aboriginal language.
Who this service is for
Families with children in the prenatal to 5 year old age bracket.
Opening Hours
9am – 4pm Monday to Friday
Accessibility Support
Ramp access
Parking
How this service is delivered
Face-to-face

Playgroups, information sessions and services delivered at the centre.
Outreach playgroup offered at Southport fortnightly.
Outreach home visiting service.

Call or visit us online

Contact us or see our Facebook page for more information.
https://www.facebook.com/wayraparatteeCFCGeeveston/

We'll come to you (outreach)

Our catchment/funded area is Franklin to the Far South.
Outreach is offered to all areas in our catchment.
Outreach playgroup offered at Southport fortnightly.
Outreach home visiting service.
Transport is available to and from the centre depending on availability of staff and vehicle.
Updated: 12/09/2023
Provided by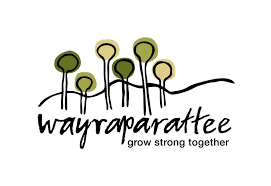 Geeveston
4879 Huon Highway, Geeveston TAS, Australia