Transcend Australia
Need help supporting your trans, gender diverse or non-binary child? Transcend provides parent/carer support, community connection, information and advocacy.
Transcend Australia was founded in 2012 and was the first parent led peer support network and information hub for transgender children and their families in Australia.
Transcend is an Australian charity which provides parent/carer peer support, reliable resources/information and improves services and systems through advocacy and partnerships. Transcend is determined that trans, gender diverse and non-binary children, their families and carers are embraced and given every opportunity to thrive and flourish. Online and in-person events.
We provide:
- a safe and inclusive space for parents/carers
- peer support
- community connection
- information and resources: medical, social, educational, legal
- advocacy
-opportunities for youth leadership
Discover more at our website.
Who this service is for
For parents and carers of trans, gender diverse, non-binary and questioning young children (this includes adult children) and for young people themselves.
How this service is delivered
Face-to-face

Online and in person

Call or visit us online

Visit our website to find out more.
Updated: 11/10/2021
Provided by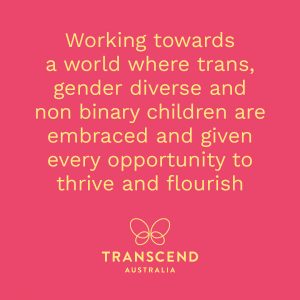 Statewide online resource