Sport and Recreation Activities by PCYC Hobart
Hobart PCYC's Mission Statement is to provide low cost access to sporting, recreational, social and cultural programs in a safe environment for young people and the broader community.
Hobart PCYC offers many programs including:
Learner Driver Mentoring
Youth Outreach Programs
Weights gym,
Basketball Hall,
Dojo
Gymnastics Hall
Self Defence classes
Senior Activities
Teen Gym 12-15 years
Who this service is for
Anyone in the community
Opening Hours
Hobart PCYC's usual opening hours are as follows:
Monday – Friday 7.00am – 9.00pm
Saturday 9.00am – 5.00pm
Sunday Closed
How this service is delivered
Face-to-face

Pop into the centre at any time to see what's on offer.

Call or visit us online

See our website at www.hobartpcyc.org.au for further information.
Updated: 13/07/2023
Provided by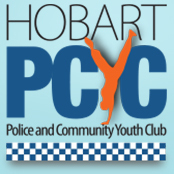 Hobart
300 Liverpool Street, Hobart TAS, Australia