School Canteen Health
The Tasmanian School Canteen Association (TSCA) was formed in 1994 to promote and facilitate the provision of a nutritious and healthy food service in Tasmanian school canteens. The TSCA is a non-government organisation that receives its majority of project funding jointly from the Tasmanian Department of Health and the Department of Education.
The TSCA engages schools in the Canteen Accreditation Program, which has recently changed its name to the SmartFood Award Program. This accreditation program offers a model of best practice for canteen management through an awards process of Bronze, Silver, Gold and Platinum level. It offers ongoing support and education to school communities of government and non-government schools in the areas of
– healthy canteen foods,
– healthy school food policy,
– links to the curriculum, marketing and promotion of healthy eating at school,
– financial management of school canteens,
– canteen food safety and hygiene in the preparation of food,
– sustainable practice activities in the canteen
The TSCA works in partnership with health and education agencies, local government, parent bodies, other non-government organisations and the food industry. The TSCA offers ongoing food education and support to Canteen Managers and canteen volunteers through workshops and seminars. Through this work, children are provided with healthier food choices.
Our vision is for all children to eat well and as a result, thrive in all they they do.
Our mission is to support Tasmanian schools in offering healthy 'everyday' food choices for children.
We do this by working directly with school Canteen Managers and through them with Principals and the wider school community. We provide information, training, resources and advice tailored to each school community.
How this service is delivered
Face-to-face

Our office is in Hobart and we support canteens across the state.

Call or visit us online

Contact us or see our website for details.
Updated: 08/11/2023
Provided by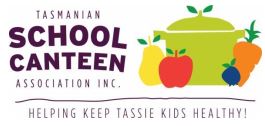 Hobart
Ellerslie Road, Hobart TAS, Australia