Heart Disease Support
The Heart Foundation is a charity dedicated to fighting the single biggest killer of Australians - heart disease. For over 50 years, we have led the battle to save lives and improve the heart health of all Australians. Our sights are set on a world where people don't suffer or die prematurely because of heart disease.
The Heart Foundation is dedicated to making a real difference to the heart health of Australians. Every day, our work includes:
- funding world-class cardiovascular research
- guiding health professionals on preventing and treating heart disease
- educating Australians about making healthy choices
- supporting people living with heart conditions
- advocating to government and industry to improve heart health in Australia.
How this service is delivered
Face-to-face

Come and visit us at our Hobart office.

Call or visit us online

Contact us or see our website for more information.
Updated: 14/10/2019
Provided by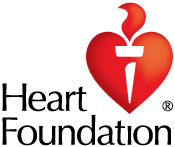 Hobart
89 Brisbane Street, Hobart TAS, Australia