East Devonport Neighbourhood House
**COVID-19 - The House is currently closed to the public, but we are available for support over the phone, email or facebook.**
The House is currently closed to the public and all activities are on hold, but we are available for support and information over the phone, online or via email.
East Devonport Neighbourhood House is a safe, friendly place where local residents –
Can get help, support or referrals
Meet new people and enjoy themselves
Learn new skills or perfect a craft
Study a career path or interest
Our purpose is to help build a happy, healthy and resilient community who have a zest for life!
What we offer:
- Support and referrals
- Community Garden
- Garden View Cafe
- Sue's Food Shed - Sue's Food Shed has fresh fruit and vegetables, jams and relishes for sale. Sometimes we have cheeses, fruit juices and yoghurt! Plus, free bread and pastry items.
- Heaps of Activities - Every month we have a calendar packed with fun things to do and learn; from cooking to gardening, exercising, studying a qualification to playing scrabble! We are sure to have something you will enjoy.
- No Interest Loans Scheme (NILS)
Who this service is for
Anyone
Opening Hours
Mon-Thurs, 9:30am-4:30pm
Fri, 9:30am-1:30pm
Accessibility Support
Ramp access, accessible toilet. Please contact us for specific needs.
How this service is delivered
Face-to-face

**The House is currently closed to the public - but we are available for support over the phone, email or facebook.**

Call or visit us online

Contact us or see our facebook page for details on our current services
Updated: 05/05/2020
Provided by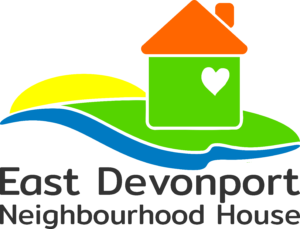 East Devonport
106 David Street, East Devonport TAS, Australia