East Devonport Neighbourhood House
East Devonport Neighbourhood House is a safe, friendly place where local residents –
Can get help, support or referrals
Meet new people and enjoy themselves
Learn new skills or perfect a craft
Study a career path or interest
Our purpose is to help build a happy, healthy and resilient community who have a zest for life!
What we offer:
- Support and referrals
- Community Garden
- Garden View Cafe
- Sue's Food Shed - Sue's Food Shed has fresh fruit and vegetables, jams and relishes for sale. Sometimes we have cheeses, fruit juices and yoghurt! Plus, free bread and pastry items.
- Heaps of Activities - Every month we have a calendar packed with fun things to do and learn; from cooking to gardening, exercising, studying a qualification to playing scrabble! We are sure to have something you will enjoy.
- No Interest Loans Scheme (NILS)
Who this service is for
Anyone
Opening Hours
Mon-Thurs, 9:30am-4:30pm
Fri, 9:30am-1:30pm
Accessibility Support
Ramp access, accessible toilet. Please contact us for specific needs.
How this service is delivered
Face-to-face

Come and visit us at the house

Call or visit us online

Contact us or see our facebook page for details on our current services
Updated: 23/11/2020
Provided by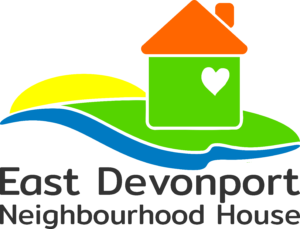 East Devonport
106 David Street, East Devonport TAS, Australia