East Devonport Neighbourhood House
East Devonport Neighbourhood House is a warm and friendly place where you can come for a variety of reasons.
We have lots of great things you can join. There are many social groups, from Mahjong to Scrabble, Chess to Bingo. If you are an 'arty person' then there are opportunities to work beside talented people who enjoy sharing their skills. These knowledgeable people do Craft, Water-colour Painting and Mosaics, etc. There is something for everyone.
There are Tai Chi classes (from beginners to advanced) four times a week, and a walking group that meets every Thursday in different areas of the city. There are great Health and Well-being community events throughout the year and you are welcome to come along.
If you just want to meet new people over a cuppa, we have that, too. Downstairs there is a community cafe' where you can buy affordable cafe' items and sit out in the sunny garden. At times we run cooking classes and there are opportunities to learn various life-skills. At least once or twice a year we have formal education where students can study certificate III qualifications for entry level jobs, example: community services, individual support, etc. Then, there are training opportunities, and we take students (minimum 3rd year) for their 'work-placements/prac'.
If you need help, we are here to assist. We can provide referrals to other relevant organisations, access to affordable fresh produce via 'Sue's Food Shed' (gold coin donation), information on many different things (if we don't know it, we will find someone who does!), food support for those in crisis (just phone), and we do 'No Interest Loans (NILS)' for anyone wanting a new fridge, lounge suite, heat-pump or car repairs (amongst other things, and you need to make an appointment).
We are here when you want to join in and everything is fine (and we are also here to help when things aren't so fine). Call or come in! We look forward to meeting you.
Who this service is for
Anyone
Opening Hours
Mon-Thurs, 9:30am-4:30pm
Fri, 9:30am-1:30pm
Accessibility Support
Ramp access, accessible toilet. Please contact us for specific needs.
How this service is delivered
Face-to-face

Come and visit us at the house

Call or visit us online

Contact us or see our facebook page for details on our current services
Updated: 27/07/2022
Provided by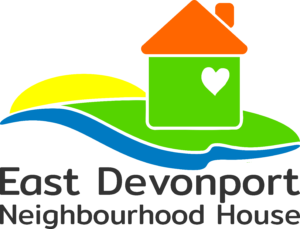 East Devonport
106 David Street, East Devonport TAS, Australia