Disability Support Services by NOSS
This community access program gives adults with a disability individualised support to access a range of community activities including social, sporting, educational and work based opportunities.
NOSS provides support to access community venues, together with training and skill development in a range of areas including numeracy, literacy, transport training, personal care, household tasks, gardening and social skills. We also have an Activity Centre where, for a small fee, clients can take part in a range of creative programs such as drama, art, mosaics, music etc.
NOSS has an ADE known as Bluegum Grounds Maintenance where we employ people with a disability to do a range of jobs in gardening and process work.
Bluegum is a community based workcrew employing and training people with a disability in a range of community settings. Work includes gardening/ grounds maintenance work, process work etc.
Who this service is for
Adults with a disability.
How this service is delivered
Face-to-face

Visit our Launceston office to find out more.

Call or visit us online

Call us or see our website for more info.
Updated: 13/07/2023
Provided by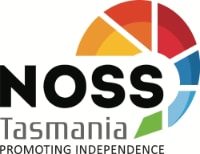 Launceston
49 York Street, Launceston TAS, Australia