Burnie Community House
The focus of Burnie Community House is to support individuals and families to create positive futures for themselves and their community.
We have:
– spaces available for community use
– office facilities
– NILS (no interest loan scheme)
– Vinnies van – feeding the hungry
– Needle and syringe program
– free produce shed – fresh vegetables available
– community garden
– men's community hub
– learner driver mentor program
– north west legal service
– country women's association
– computers for seniors
– Kommunity kids program – an afternoon of outdoor play
And much more!
Visit our website or facebook page for more info
Who this service is for
Anyone in the community
Opening Hours
Monday to Thursday 8.30am till 4.30pm
Friday 8.30am till 3pm
Accessibility Support
Parking
How this service is delivered
Face-to-face

Come and visit us at the house

Call or visit us online

Call us, see our website or our facebook page for latest information.
Updated: 21/07/2021
Provided by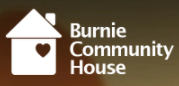 Burnie
24 Wiseman Street, Shorewell Park TAS, Australia