Global Learning Resource Library
The Global Learning Resource Library provides a wide range of materials that support our programs in schools and workplaces.
Our library in Battery Point, Hobart, has:
books
teaching kits and games
posters
DVDs and accompanying study guides
Online resources for students are organised around key social justice issues, for each of which there are:
Six key teacher-selected videos
a Youtube playlist of additional videos
online games and multi-media
key facts and issues with links to selected websites
ideas on taking action
international, national and Tasmanian contacts
For teachers, there are accompanying resource lists on each topic.
Materials are available for loan to all of our members.
Non-members are free to use our resources within the Resource Library, where workspace and copying facilities are available.
See our website for further details.
Who this service is for
Anyone in the community.
Opening Hours
Monday to Friday, 9:30am to 5:00pm
Accessibility Support
Parking, ramp access
How this service is delivered
Face-to-face

Visit the library

Call or visit us online

Call us or see our website for more information
Updated: 17/01/2023
Provided by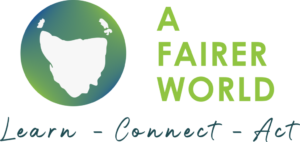 Hobart
4 Battery Square, Battery Point TAS, Australia